A former FBI special agent said on Tuesday that the Covenant Christian school shooting in Nashville is part of a pattern of mass shooters having "sexual identity dysfunctions" and psychological confusion that must be addressed.
"Right now, they're probably combing through the evidence to try to figure out what the motivation was here. But with somebody who has a mental illness or not, the motivation may be completely unbiased or based in false reality," former Navy SEAL Jonathan Gilliam told "Fox & Friends First." 
"I think there's much deeper issues going on here. And the hatred they have a hatred at some point. They have confusion in their mind. And not only do they want to die, but there's something in there that is also pushing them to kill others." 
NASHVILLE SCHOOL SHOOTING: 6 KILLED INCLUDING 3 STUDENTS, SHOOTER DEAD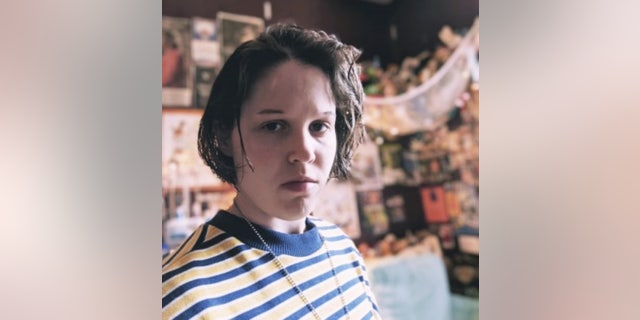 Gilliam's comments came after Nashville police identified a shooter who opened fire on Monday morning at The Covenant School as 28-year-old Audrey Hale, a transgender former student at the private Presbyterian school. 
Three children and three adults were murdered in the shooting: Evelyn Dieckhaus, 9, Hallie Scruggs, 9, William Kinney, 9, Cynthia Peak, 61, Katherine Koonce, 60, and Mike Hill, 61.
The responding officers on the scene neutralized Hale within 15 minutes of the initial shots being fired by Hale.
Furthermore, a reported text message exchange between Hale and a former middle school basketball teammate shows that Hale planned to die by suicide, and it would be seen on the news.
According to text messages obtained by News Channel 5, Averianna Patton at 9:57 a.m. saw a text message on her phone from the Covenant School shooter on Instagram.
TENNESSEE SHOOTING: NASHVILLE POLICE RELEASE SECURITY CAMERA FOOTAGE OF COVENANT SCHOOL ATTACK THAT KILLED 6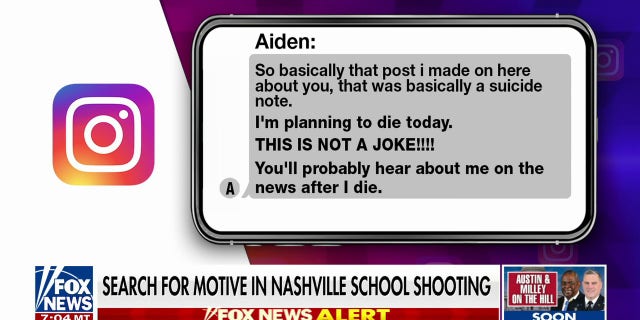 The messages show Hale telling Patton that she would see her again in another life. Hale also told Patton about no longer wanting to live and the need to die.
"One day this will make more sense," Hale wrote. "I've left behind more than enough evidence behind. But something bad is about to happen."
Patton told NewsChannel 5 that she tried to comfort Hale because she had mentioned being suicidal in the past.
NASHVILLE SCHOOL SHOOTER AUDREY HALE: WHO IS 28-YEAR-OLD TRANSGENDER WOMAN WHO OPENED FIRE AT COVENANT SCHOOL
"I tried to comfort and encourage her and subsequently reached out to the Suicide Prevention Help Line after being instructed to by my father at 10:08 am. Audrey has shared with others that she had been suicidal in the past and I knew to take this serious," Patton said.
Gilliam said that sometimes mass shooters "no longer have the will to live, and they want to force someone else to kill them."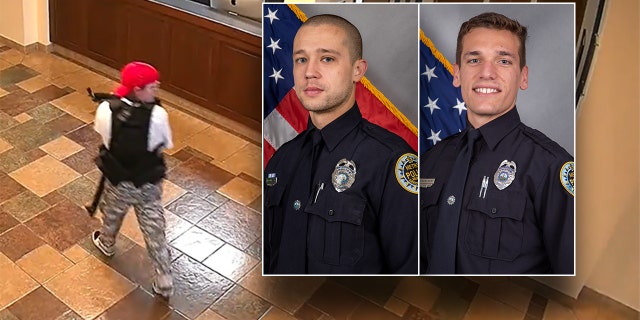 CLICK HERE TO GET THE FOX NEWS APP
"This is not just a tragedy. This is something that we're seeing re-occurring. I was doing my research to come on here and it is a fact that the majority of school shooters and mass shooters that we've had in the recent history of this nation are all people who have sexual identity dysfunctions. And the medical industry will no longer diagnose people with these dysfunctions."
Gilliam said in the hours after the shooting there was confusion around whether the shooter was a male or female. He said the psychological issues of "confused" individuals must be addressed to prevent future attacks. 
The Covenant School is a private Presbyterian school offering classes from preschool to sixth grade. 
Hale is said to have left behind a manifesto that police have not released.
Source link