A truck driver's dashcam video showing a mysterious figure appearing on the side of an empty road in Arizona has viewers discussing the possibility of a supernatural occurrence.
William Church, a truck driver who reportedly drove down Arizona State Route 87 on Saturday, March 11, noticed a bright glare in his dashcam, and he thinks the flashing figure could be a ghost, according to FOX Television Stations.
The suspected specter was spotted at around 2:30 a.m. local time while Church passed the highway's 200-mile marker, which is located between Phoenix and Payson, Arizona (SEE THE VIDEO at the top of this article).
ODDEST HOMES IN AMERICA INCLUDE THE 'SMURF HOUSE' AND ONE THAT'S 'LEGALLY' HAUNTED
Church told FOX Television Stations there were no other cars on the road.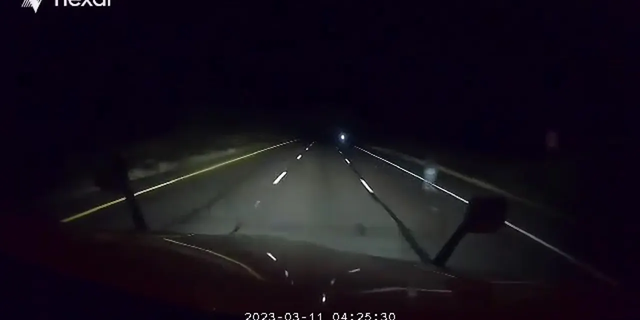 He thinks the translucent figure looks like a person "just standing in the roadway."
"You can see the lines through the legs making the figure," Church continued.
The six-second clip was captured on a Nexar dashcam, which is designed to record drives for security reasons. 
'HAUNTED FORESTS' IN NORTH AMERICA THAT YOU CAN VISIT IN TIME FOR HALLOWEEN 
Fox News Digital reached out to Nexar for comment.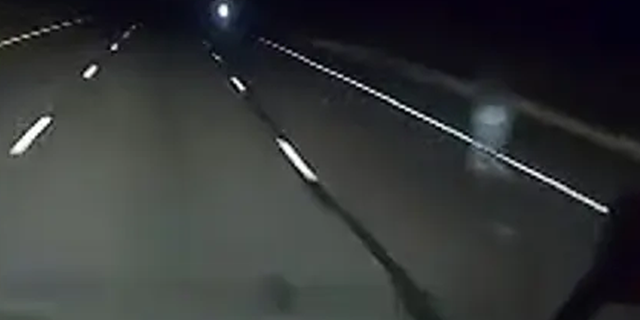 Arizona State Route 87 is a north-to-south highway that was constructed in 1927 and measures approximately 272.66 miles.
The north end travels to State Route 264 near Second Mesa, a census-designated place in Arizona, while the south end travels to Interstate-10 near Picacho, an unincorporated community and census-designated place in Arizona.
Many fatal car accidents have happened on the 96-year-old highway, which has reportedly led some locals to believe the road could be haunted.
OWNER OF 'ONE OF THE MOST HAUNTED HOUSES' DETAILS THE UNSETTLING DISCOVERIES MADE ON THE PROPERTY 
Valley Chevy Dealers in Phoenix named State Route 87 as one of Arizona's "most dangerous roads" for its beeline-like route that has "a lot of looping turns."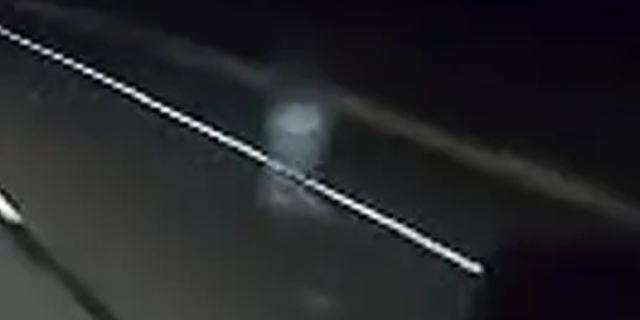 A recent fatal car crash happened on Arizona State 87 near milepost 201 in early February, according to FOX 10 Phoenix.
The two-vehicle collision resulted in the death of one person near Bush Highway, which is east of Fountain Hills, a town in Maricopa County.
FOX 10 Phoenix reported that the cause of the crash was not known at the time.
CLICK HERE TO SIGN UP FOR OUR LIFESTYLE NEWSLETTER
Viewers who have seen Church's video on YouTube claim they've seen a lot of supernatural activity on Arizona highways and in other public spaces.
"They're out there," one YouTuber commenter wrote on Monday, March 13, with four shocked face emojis.
"I don't think it's glare," another commenter shared. "It's too centralized on one spot. Spooky Spooky!"
"Yep saw it …yeah it does have a most definite ghostly appearance," another user wrote. "That's for real I think."
CLICK HERE TO GET THE FOX NEWS APP
Other YouTube commenters have theorized that the unknown roadside figure could be a hitchhiker, an animal, a tumbleweed, a reflected road sign or a trick of some source of light.
What do you think the figure could be? Share your thoughts in the comments below.
Source link