In Florida, it's all in a name – or at least, how voters sign theirs.
Amid all the controversies surrounding ballot tabulation in Florida – with the outcomes of two pivotal races still hanging in the balance – Judge Mark Walker gave potentially thousands of voters who cast ballots deemed to have invalid signatures a chance to fix them. The decision, praised by Democrats, came just hours before the deadline for counties to finish recounts for the closely-watched and highly contested gubernatorial and Senate races.
In his 34-page ruling riddled with football analogies, Walker said many voters were not notified about a signature mismatch on absentee ballots until after the deadline had already passed to rectify them. He ordered county election officials to notify these voters and give them until Nov. 17 at 5 p.m.
"Without this Court's intervention, these potential voters have no remedy. Rather, they are simply out of luck and deprived of the right to vote," Walker said.
The process of deeming a signature invalid is stringent or subjective – depending on who you ask.
Election officials are given a lot of discretion in determining signatures' validity, Michael McDonald, a University of Florida political science professor and Brookings Institution senior fellow, told Fox News.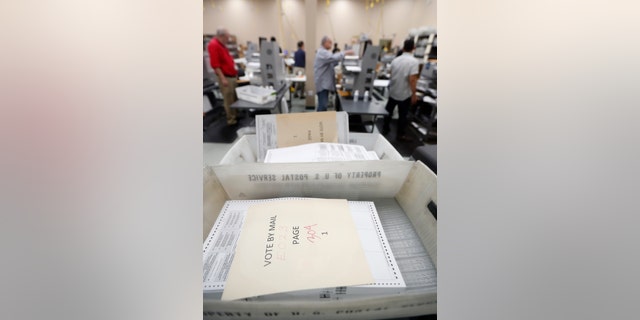 "They may receive training as to how to do signature verification, but it really is some human looking at two signatures and deciding whether or not those signatures are the same," McDonald said.
FLORIDA VOTERS HAVE UNTIL SATURDAY TO FIX SIGNATURE ISSUE, FEDERAL JUDGE SAYS
"I think the process has so far been what you would expect when you rely on ordinary Americans who aren't trained in looking at signatures," Frances R. Hill, a University of Miami law professor and election law expert, told Fox News. "People will be deprived of their vote because their signature at the polling place is being compared to a day when they wrote their name somewhat differently. But no one knows just how differently."
Attorney Bill Abramson, who monitored vote counting in Palm Beach County, said the process is tedious. Election officials will study each ballot while surrounded by party representatives and lawyers, he told The Washington Post.
"If you do this for a while, it's not hard," Abramson said. "You don't need an expert to say 'that one's not even close.' You look for consistencies, the way people hook their "H" on the left side, that sort of thing. And you compare them."
FLORIDA RECOUNT EFFORTS UNDERWAY IN MULTIPLE RACES: WHAT TO KNOW ABOUT THE PROCESS
In his ruling, Walker noted canvassing boards are "staffed by laypersons" who do not have to "undergo formal handwriting analysis education or training." And there is no official process for scrutinizing signatures as determined by the state.
But Brenda Snipes, the embattled supervisor of elections for Broward County who has recently found herself the target of the president and Republicans, told The New York Times forensic signature experts have trained her staff.
"We are looking for the style of writing, we look for how the letters are designed and how the letters fall above or below the line," Snipes said. "We are just trying to make sure there is a match that will allow the person to vote."
But people's signatures can change over time, McDonald pointed out. Elderly people may change their handwriting after an illness. And young people, too, tend to alter their signatures as they mature, McDonald said.
While state officials have said nearly 4,000 mailed-in ballots were deemed to have invalid signatures, Walker's ruling only applies to those who were notified too late to fix them – or not notified at all.
FLORIDA RACES HEAD TO RECOUNT: A LOOK AT PAST EFFORTS IN US HISTORY
"Let this court be clear: It is not ordering county canvassing boards to count every mismatched vote, sight unseen," Walker wrote in his ruling. "Rather, the county supervisors of elections are directed to allow those voters who should have had an opportunity to cure their ballots in the first place to cure their vote-by-mail and provisional ballots now, before the second official results are fully counted."
Generally, under Florida election law, voters who submit a ballot by mail with an invalid signature are to be notified and submit an affidavit to correct it by 5 p.m. the day after the election. Those who cast provisional ballots are not given an opportunity to fix them, Walker said.
It is unclear how many ballots Walker's ruling actually impacts. A representative for the Florida secretary of state's office did not immediately respond to Fox News' request for comment Thursday morning.
BRENDA SNIPES, BROWARD ELECTIONS OFFICIAL AT CENTER OF BALLOT STORM, HAS HISTORY OF CONTROVERSY
To fix an issue with a signature, Floridians are required to submit a signed affidavit vowing the ballot submitted is accurate and the only one submitted. Hill said voters may also go to an election office with documents – such as a Florida driver's license or a checkbook – to prove one's identity and show a range of signatures.
But that can take time and require poll workers to adjudicate whether the ballot is valid on the spot. And for some voters – especially those with a job and kids – the Saturday deadline might be too soon.
McDonald said Walker's ruling is extremely unlikely to change the outcome of the races, particularly the Senate election, in favor of Democrats. Instead, he is holding out for a change in the system.
"I would hope that out of this election we get a better process for notifying people," McDonald said.
The election won't be certified until Tuesday, even though the machine recount may essentially bring a conclusion to the governor's race, where Republican Ron DeSantis leads Democrat Andrew Gillum by 0.41 percentage points in unofficial results. Once the machine recount is complete, state law requires a hand review of races with margins of less than 0.25 percentage points. This almost certainly means another recount in the Senate race, with unofficial results showing Republican Gov. Rick Scott ahead of Nelson by 0.14 percentage points.
The Associated Press contributed to this report.
Source link